Nicki Black
July 22 2010 03:37:54 PM
Product: The Old Schoolhouse Travel Kits - A Simple Way to Bless Others - An E-Book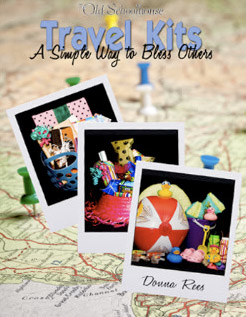 Vendor:
© 2010 The Old Schoolhouse® Magazine, LLC
P.O. Box 8426, Gray, TN 37615
www.thehomeschoolmagazine.com
1-888-718-HOME
Author: Donna Rees
Item Details:
Price - $12.45 USD
Number of Pages - 93
Age Range - All ages, but with a focus on elementary age recipients
Where To Buy TOS Travel Kits - A Simple Way to Bless Others:
www.theoldschoolhousestore.com
- Check them out!
Want to see what my fellow TOS Crew members thought about TOS Travel Kits - A Simple Way to Bless Others?
www.homeschoolblogger.com/homeschoolcrew

When I embarked on reviewing TOS Travel Kits - A Simple Way to Bless Others, I already knew about, and utilized to some degree, family travel kits. I didn't know they actually had a name for the little bag of goodies I made, though. I just thought it was another piece of "luggage" in our caravan of bags. We used to be a family of only three, my husband and me, and our DD. Traveling was pretty much uneventful in those days of yore, as the DD is fiercely independent and armed with only 3 dozen books, her DVD player, and a handful of her favorite movies, we were good to go no matter how long, wide, and far our trips required.
Enter stage right, the DS, some 9 years later. How could someone sooo demure and pinchy-cheek cute be so L.O.U.D. and mostly un-independent? Hmm. Cut from the same cloth. Check. Always sees DD reading quietly and contently. Check. Has his own window seat, with a full-on view of the world. Check. Has enough 4-wheeled vehicles at his side at all times to outfit any legit dealership. Check. Then.what.... ma...ke.....s... this..chil.d... so..qu.ick.. to..inter.rup.t... yo.u.r... every.. sen..t..en..ce..and..th..o.u.gh.t.. becau..se.. he.. alw..ay..s ... need.s....... you.r...atte..nti.o.n.. NOW... right NOW? ...
*plucks out another grey hair*
Because God made him that way, that's why! Whether it's for his benefit, the world's benefit, or my benefit, it's all good. So while I'm learning how to adjust from my own personal background of being a last-born-only-child, where it was always quiet and everyone did their own thing - quietly - I found a very good resource in this e-book in going the many steps forward in not only showing you how to pull together little packs of endless travel delights for you and your family, but also how to make those packs special and tailored and memorable for your brood for a lifetime. You may even be setting a family tradition, to be passed along for generations to come. That should make any parent smile. Just think - your kids actually thinking you're doing something awesome so they want to do the same for their kids. (Am I right, or am I right, oh other parents of tweens?) ;-0
Loaded up with colorful, very descriptive photos, Travel Kits can be consumed in small bits for specific purposes, or devoured in whole, if you are the type that thrives on planning ahead with all your traveling kits throughout the year. I learned that travel kits are so much more than just a bag thrown together with this and that for the family on the road. Travel kits, when created well, can be your link to sanity and fun times wherever you go. Donna Rees writes in a very relatable dialogue, as though you are listening to a friend talk over coffee, and not just reading a point-by-point instructional outline of how to put something together. She takes the time to explain even the smallest details, from the cost of the items from a budget perspective, to personal stories of kits she made for other families. Her writing style is very easy on the eyes, and was enjoyable to read.
Some of the highlights from this e-book include:
+ Learning how to create kits for both boys and girls, Moms and Dads, and even grandparents
+ Making your kit fit your vehicle
+ How to suit any budget, even no budget
+ How to make great components from unexpected places, like items around the house or "found" elsewhere
+ How to create fun themed kits for all ages, and I mean, ALL ages!
+ Book lists for ages 3 through adult
+ Knowing what kind of games and gadgets work best in a travel situation
+ Directions on how to play many new games while traveling
+ Learning many ways how to distribute kits to make the fun last throughout your journey
+ Learning how to avoid the potential pitfalls of jealousy between the kids with their treats
+ How to put together edible gifts (who doesn't like that?!)
+ Catalogs and other numerous online resources that offer imaginative kit possibilities
+ Putting together kits for specific regions of the country, or world
+ Prices of components for kits the author already put together, to make your own cost estimates very easy to gauge
+ And guess what? So much more!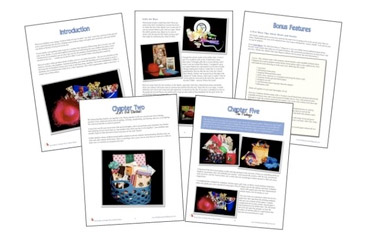 So whether you are a family of local travelers only from house to track meet and back, or a family that has to regularly review their passports, Travel Kits - A Simple Way to Bless Others is exactly that - a one-stop resource for learning how to put together kits for blessing others with personally tailored, filled with love, goodies for all senses, appetites, and ages. I would even go farther in saying these kits are not only great for traveling, but also for any gift giving throughout the seasons.
Happy Homeschooling!
Nicki
Disclosure/disclaimer statement, as required by the FCC:
I have been given this free product in order to write this review. I used this product in my home, and the comments and thoughts shared herein are solely my own, based on my personal experience. Any products reviewed by me as a member of the TOS Homeschool Crew have been given to me free of charge in order for me to provide you with an honest and genuine review of those products, and how we used the products within our family. I receive no other form of compensation for the reviews posted on this blog.