Nicki Black
September 24 2010 08:20:29 PM
Vendor:

© Schleich
Schleich North America, Inc. (In addition to locations in the UK, France, and Germany)
3258 Hawthorne Road
Ottawa, Canada K1G 3W9
eMail: sales@schleich-s.com
Item Details:
Price - The price of each animal varies
Age Range - Ages 4 and up
Where To Buy Schleich products?
www.schleich-s.com
- Check them out!
© 2010 The Old Schoolhouse® Magazine, LLC
P.O. Box 8426, Gray, TN 37615
www.thehomeschoolmagazine.com
1-888-718-HOME
Want to see what my fellow TOS Crew members thought about Schleich's animal figures?
http://homeschoolblogger.com/homeschoolcrew/783079
A few days after my mother flew back home after a visit a number of years ago, she phoned us, snickering, "Did you see IT yet?". Tapping into my best Pooh, I had to really think think think. Normally I have a keen eye for things amiss around the house. Um. And by "things amiss around the house", that's kinda saying that I'd totally sniff out and call it amiss if things were put away where they should be, where the kids are concerned. I mean, that's just a figment of a fantasy in some world that doesn't accept my passport.
Anywho, this story has a point.
I finally spotted the sinister stuffed monkey tied to the ficus in the den, banana in hand. I'm sure Mom was stewing in her bunny slippers for days, wringing her hands with delight as she waited for us to discover our squatter. Well, some say the apple doesn't fall far from the ficus. I tend to agree. Our DD has picked up the slack, and likes to tie things to our indoor foliage for fun, to surprise unsuspecting visitors (and me, apparently), or to play out role playing games with all her animals and horses. I love that she's still a kid at heart when it comes to having fun and being goofy, despite the fact that she's sneaking up on age 13. While all the other girls around her are caught up in trying to look and act beyond their years amidst battling peer pressure and all sorts of distractions on the way to self assurance, my laid back kid is busy building epic plastic animal police chases and treks through the jungle for her and her little brother to enjoy.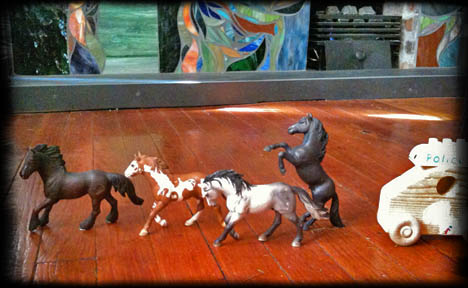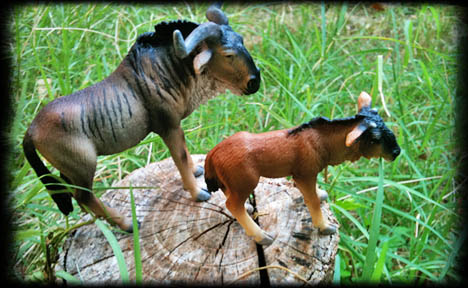 DD already had a fair number of Schleich horses and figures from their World of Knights product line. When I opened up the box of new animals from Schleich for us to try out, she literally did a happy dance almost on top of her brother, and squarely on top of my foot. One by one she birthed the animals from their mysterious box, each invoking "Oh's" and "I want that one!" from the DS. This was probably the revelation moment where my DD truly got excited about her ol' Ma being on the TOS Crew.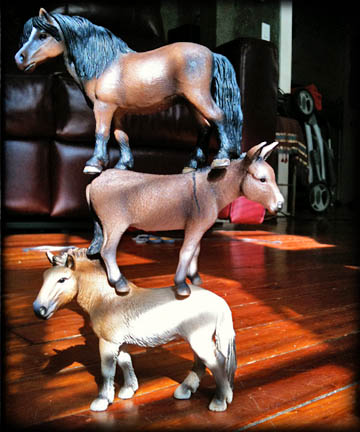 Having been in business since 1935, and launching their animal figures in the 1950's, Schleich has had over a half of a century to truly master making a good, quality product. In our package, we received a:
Przewalskis horse
Dartmore pony
Asian elephant calf
donkey
okapi
Swabian Hall piglet
gnu
and a gnu calf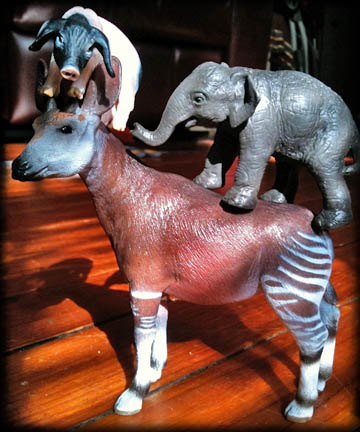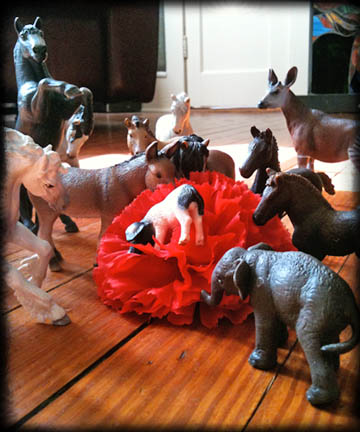 Every animal had unique, wonderful detailing. I love their little silver horse shoes, expressioned eyes, the true-to-life coloring on the okapi, and the deep leathery folds on the Asian elephant calf, especially. Each figure is meticulously hand-painted. They are very sturdy and substantial animal figures, and in doing a comparison to the others on the market, Schleich's quality is head over tails #1 in our book. Our DD has had her other Schleich figures for up to a good 10 years now, and though they've been played with, battled with, plunged under water, and yes, tied to the plants for Lord knows how long, they all still look like they just rolled right out of the hands of the Schleich artists, with absolutely no flaking paint or broken parts.
But get this, Schleich makes many different themed product lines, to include: Farm Life, Wild Life, Prehistoric Animals, The World of Knights, The World of American Indians, Bayala, and The Smurfs. They even have a page on their website, called Playground, where they have coloring pages available for printing, that correspond to every one of their "worlds". How cool is that?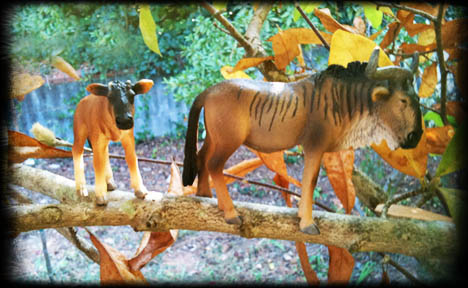 I would highly recommend any animal figure from Schleich to anyone looking to invest in a long-lasting toy for their children. I imagine they have been passed down from generation to generation in a lot of families, and I will put our family on that list, too. Thank you Schleich for making such fun and lovely learning tools for my children. We look forward to many more years ahead of new and exciting figures and themes.
Happy Homeschooling!
Nicki
Disclosure/disclaimer statement, as required by the FCC:
I have been given this free product in order to write this review. I used this product in my home, and the comments and thoughts shared herein are solely my own, based on my personal experience. Any products reviewed by me as a member of the TOS Homeschool Crew have been given to me free of charge in order for me to provide you with an honest and genuine review of those products, and how we used the products within our family. I receive no other form of compensation for the reviews posted on this blog.