Nicki Black
June 19 2010 10:08:04 PM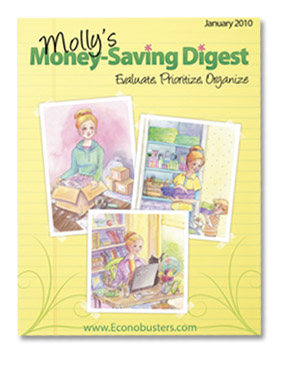 Molly's Money-Saving Digest: Evaluate, Prioritize, Organize January 2010
© 2010 The Old Schoolhouse® Magazine, LLC
P.O. Box 8426, Gray, TN 37615
Price / $4.95
Age Range / Middle School to Early High School

Other Products from Vendor Include:
Molly's Money Saving Digest: Gardening Basics and Nature, February 2009
Molly's Money Saving Digest: Making Money From Home, March 2009
Molly Green has the ability to capture your sense of "normalcy" and ease your mind with her charming, laid back writing style and inviting layout within her Digest. I knew immediately that this was not a resource guide for the overtly highly driven parents with the brood who "... aced algebra at age 3.5 and are now interning at the local Red Cross to build their resume for EMS training during their 3rd grade summer...". Some homeschooling resources are exactly that - a Holy depressing Grail of accomplishments and byways of living life to the fullest to make us all feel like the missing yellow sock we found in the dryer that matched the yellow finger paints we made from flour and tempera powder wasn't the pinnacle of our day, if not the only thing we managed to do that day. But I digress... I very much appreciate a Mom Just Like Me showing me how to make a homemade apple pie crust with thoughtful, informative step-by-step pictures (page 12 - yum) that don't look *anything* like what I'd (in no way) pay way too much for at Chez Overpriced Shopping Mall Bakery Cafe down the road. Molly's digest is really more of a snapshot into any given day in her life - or yours or mine - and how to make our lives richer by living more simply. It is an easily digestible resource of helpful tips about family budgeting, quick and wallet-friendly recipes, fun dates to remember, crafting from items everyone would have around the house, and links to online tips and blogs from other homeschooling parents. The recipes and crafts are easy to follow for anyone, tween up to adult. I would have liked more recipes, but I love to cook and try new things, so perhaps that's just me.
In short, I'd very much liken the digest to something of a quilt - a patchwork of warmth in many colors and fabrics, all knit together into something very useful and comforting. It's sweet and to the point, and I love the real life that ebbs forth from all facets of Molly's running commentary throughout. She sounds like someone I'd want to share my own homeschooling stories with over an iced tea, while we watch our kids play under a sunlit sky.